To nurture the next generation of global citizens

To create life-long family memory
We are citizens of Earth, and I believe that we are at the time when we all need to think, speak, and act from the awareness that we share a common planet.
We nurture the awareness through this camp.
Please read
here
to learn more why Akari Translations wanted to host this camp.
The program is for children between ages 3 and 8 who are toilet trained.
The program has both indoors and outdoors components.
The indoor learning is called "
Workshop
" and takes place in the morning, and the outdoor learning is called "
Living Classroom
" and takes place in the afternoon.
The day begins with a
yoga
or
hula
class taught by experts to awaken the mind and body. The guardians and the preschoolers will receive the class together.
Then the children and the guardians go to different rooms to attend the Workshop.

This way, both the children and the guardians will receive instructions that meet their specific needs and learning styles.

They will receive English lessons taught by highly experienced ESL/ELL teachers. Akari Translations believes that it is valuable for the guardians to also learn English while children are learning, so that it can be practiced at home.
The Workshops prepare students for the afternoon Living Classroom to maximize the educational benefit of each excursion.

The Workshop also teaches them essential English language skills through songs, movement, games, and craftwork.

The students will have the opportunity to reinforce material learned in the Workshop during the Living Classroom setting through hands on experience. We will also focus on pronunciation.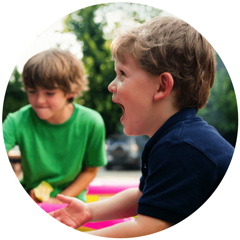 The Workshop takes place at the
Roots School
facility. Roots School is an independent, progressive, private school for students from preschool to 8th grade. It is located on the North Shore of Maui, in Haiku Town and their website is
rootsmaui.org
. Their physical address is 740 Haiku Road, Haiku, HI.
About Nap Time

In the U.S., it is a common practice for preschoolers to take a nap at preschool. However, we are aware that it is not such a common practice in Japan. Therefore, we did not include the nap time in the program; however, it is easy to imagine that the children would be tired from a long trip and might be experiencing jet lag; therefore, we have planned the transportation time (to the afternoon field trips) to be the nap time.

Children who need to take a nap will sleep while they are being driven (last year, this worked very nicely). If the transportation time is not sufficient, we have planned to let the children continue to nap even after we get to the excursion destination. We will park the vehicle under shade and open the windows. One staff will remain with the children while the non-napping children and guardians start to explore the scene. When the children wake up from their nap, they will join the rest of the group.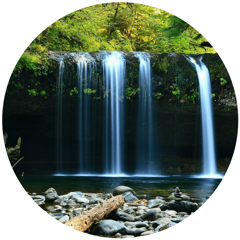 In the afternoon, fun, educational, and customized field trips called the Living Classroom are scheduled. We have handpicked each destination, and children's safety and enjoyment are assured. They are all adventures that children would not be able to experience in Japan.

A bus company will be transporting the group to all locations.
There will be
at least one
beach visit
, and we chose the one that is fully equipped with lifeguards, roofed pavilions, showers, and bathrooms.
The program will begin with an Opening Ceremony where the children and guardians will meet the instructors, staff, and Roots School preschoolers. During the week, they will have the opportunities to interact with the Roots School children.

The program will end with a Closing Ceremony where the children and guardians will share what they have learned (hula dance, short speeches, songs, etc.) in the presence of host families.

On the day of arrival, the program coordinator, Akari, will be at the airport to introduce the host families, and on the day of departure, Akari will be there to assist check-in.

Akari is aware that shopping souvenirs for family members, colleagues, and friends back home is a very important part of some culture. We have set three opportunities to do so. Also, when you shop, it is a great opportunity to practice English dialogues.
The program was developed and will be overseen by Akari Ueoka, owner of Akari Enterprises, LLC as well as Akari Translations.

Akari is an educator, Japanese & English translator/interpreter, and short-term study abroad program coordinator.
Akari Ueoka
:
earned a Bachelor's in Elementary Education and Early Childhood Education from the University of Hawaii
has taught at public and private elementary schools as a full-time teacher in the U.S. for 6 years and has been substitute teaching for the past 2 years
has extensive experience as a short-term study abroad program coordinator
served many clients ranging from children to senior company executives teaching English and Japanese
has professional experience in translation and interpretation work
is a native Japanese speaker
has spent her adulthood living in the U.S. for the past 16 years

More about Akari's bio and CV, please visit
here
.
To read what other parents have said about Akari's teaching, please visit
here
.
Leann Campbell - ELL Instructor
Leann has been in education for over 15 years in one form or another, including Special Education (particularly those on the autism spectrum), English as a Second Language (ESL), and SAT/ACT tutoring and test-taking skills.
She has:
Bachelor's of Arts from the University of Hawai'i Manoa in International Relations with a focus on Hawai'i & the Pacific,
Master's of Arts from Hofstra University in Forensic Linguistics, and
Master's of Education in ESL with a focus on Literacy and Curriculum Development from the University of Texas at Arlington.
She was also a cryptologic linguist for the US Navy. Leann's teaching (and learning) philosophy is simple: keep things interesting, and anyone can learn, anything!
Her service dog and best friend, Shiloh, certainly doesn't hurt when it comes to grabbing students' interest and attention, but she hopes her hands-on approach to learning and applying that knowledge to "real life" is what helps students to become lifelong learners.
Kylie Cole - Yoga Instructor
Kylie began teaching Yoga in her early 20's with children's classes in Boise, Idaho. Her initial Yoga journey began in 1989 with Iyengar Yoga during her passionate relationship with figure skating.
Her studies continued on to other various styles of Yoga, including Restorative, Therapeutic, Pre-Natal, and Tantra Yoga. Kylie also has a background in Traditional Chinese Medicine, Acupressure Massage, Qi Gong, Aromatherapy and Ayruveda. She often incorporates the theories of these philosophies into her instruction with awareness of energy gates & channels as well as uses yoga props to gain proper alignment and energy flow.
Kylie's classes are relaxed and fun with a focus on self care and opening to the body's inherent wisdom and rhythms. She lives on the island of Maui, Hawaii with her husband and 2 children and currently teaches ongoing private yoga classes and public Pre-natal classes at Mangala Yoga, in Makawao.
Trisha Cabral - Hula Dancer
TRIA has been studying Hula and Hawaiian music for seventeen years. She is a professional Hula dancer & singer that performs all over Maui for ceremonies, workshops, resorts & special events.
She is a member of Keaolani, a band whose name was given by the late, legendary Kahauanu Lake. The band's mission is to perpetuate his long legacy of traditional Hawaiian music. TRIA is the band's premier hula dancer and was also a featured dancer at the Ocean Terrace Ka'anapali for eight years. She has been blessed with many teachers who have fueled her passion for Hawaiian culture including four times Grammy award winner George Kahumoku Jr. and Kumu hula Gordean Bailey.
Her passion continue to inspire and extend to her everyday life. She believes that the strength and grace combined from practicing hula makes one a great dancer of life!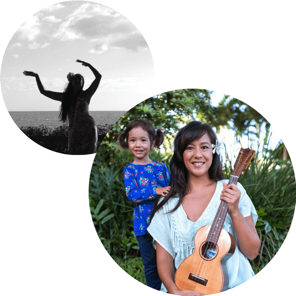 Accommodations

Homestay is the most affordable option – $90/night plus $150 one-time placement fee for a child and a guardian, which includes breakfast/dinner and transportation.

Note comparisons:
Hotel is $160/night,
Condominiums are $190/night,
Bed & Breakfast inns are $240/night
(all without transportation)

Homestay will provide the environment where the children and guardians will have the greatest opportunity for immersion in English language.

Homestay creates a life-long memory and relationship. When international students stay in a foreign country, they often say that the best part of their trip was the host family. It is a very special experience to get to know someone regardless of a language barrier.

On the day of arrival, the program coordinator, Akari, will be at the airport to introduce the host families, and on the day of departure, Akari will be there to assist with check-in.

Akari is aware that shopping for souvenirs for family members, colleagues, and friends back home is a very important part of some culture. We have set two opportunities to do so - one in Paia and one in Lahaina.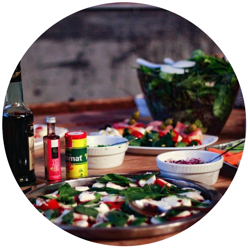 About Meals

Host families will provide breakfast and dinner. Lunch is not included in the program fee. Each guardian is responsible for bringing lunch from home or buying lunch during the Lunch & Relaxation Time. Roots School is located conveniently near the Haiku Town Center where there are many reasonably-priced restaurants and a grocery store. A list of restaurants and their locations will be distributed to the families.

On the last day of the program, we will be hosting a Closing Ceremony, and a special dinner will be served for all participants and host families as a token of appreciation.
About the Program Fee
For one child and one adult guardian*:

Early Bird - $1,095 plus tax (4.166&%) until April 1, 2020.
Regular - $1,195 plus tax (4.166%) after April 2, 2020.

*If there is an additional participant, please contact us to get a quote.

This does not include the home stay fee (mentioned above) and air fare.

A minimum of 4 families are needed to run this camp; registration will be closed when the maximum of 6 families is reached.

Questions? Please feel free to email us at camp@akaritranslations.com.
1 more spot left as of 06-16-2019.
Register
(On your credit card statement, you will see that it was charged by "Akari Enterprises, LLC." In the comment section, please mention the name of the person who referred you to this camp. We would like to thank the person.)
Refund Policy:
We rely on accurate attendance to prepare teaching materials and to plan lessons for our group lessons. If you need to withdraw from a camp, you must inform us in writing via email.
You will be refunded 70% of the course fee for cancellations made more than 60 days prior to the start of a camp.
You will be refunded 50% of the course fee for cancellations made between 31 and 59 days prior to the start of a camp.
No refunds will be administered for cancellations within 30 days of the start of a camp.
Please take this into account when you sign up for a course.
A three-fold brochure written in Japanese is available below.
Banner photo by Akari of Akari Translations