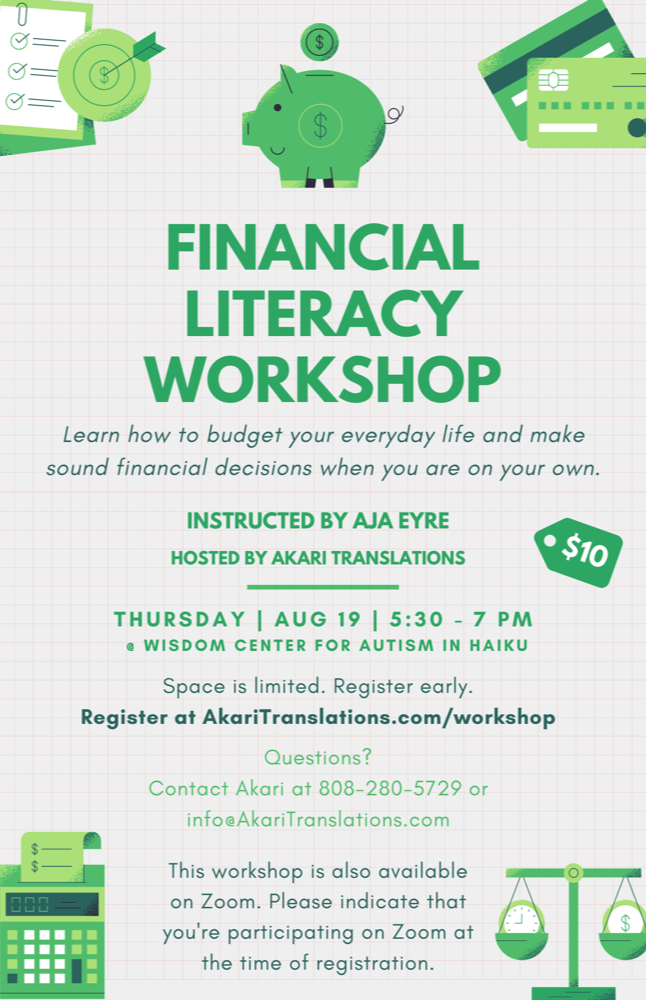 Dear Young Adult,

If you are reading this as a young adult who is about to embark on your new chapter of life by leaving the nest, you have come to the right place!

It is natural if you are feeling anxious about new changes. There is a vast unknown world before you, but this workshop will help you to feel better prepared.

Adults everywhere have been in your shoes, and we have figured things out one step at a time. We will provide you with some tools and knowledge to get a head start in managing your finances.

Many adults, including myself, look back and wish we had this kind of workshop when we were young. Then we would have learned to make sound financial decisions and avoided some of our mistakes as well.

So, we organized this workshop with your future success in mind and to help you to bridge the gap between what is unknown and what you will come to comprehend.

Best of luck to you,

Team Akari Translations
Dear Guardians,

Do you have a young adult who will soon embark on a new chapter of life by flying out of the nest?

First of all, congratulations! You have done a remarkable job raising your child to this point. The world thanks you for your hard work!

You've done everything you could, yet you still wonder what else might help your child be better prepared for their new world?

Personally speaking, I wanted to attend a workshop like this when I left home for college. Also, when I asked my hanai niece (who just graduated from high school) what kind of information would be most helpful in her transition to adult life, she said learning about the financial aspect would greatly benefit her.

And another reason why I wanted to organize this workshop was that the former students I taught when they were second graders graduated from high school this past May. I wanted to do something for them.

So, we organized this workshop for all interested teens with their future success in mind and to help them to bridge the gap between what is unknown and what they will come to comprehend.

Sincerely,

Team Akari Translations
Aja Eyre - Financial Literacy Workshop Instructor
Aja Eyre is a small business consultant based in Makawao, Hawaii. Her community work focuses on youth advocacy and education support. She has over 20 years of experience in teaching small businesses, adults, and youth simple ways to set and meet goals, increase self reliance, and enjoy financial health and stability.
Aja graduated with honors from Harvard University with a major in Cultural Anthropology. She is the mother of five children, the oldest of which is attending Columbia University in New York City, and the youngest is still in elementary school. She enjoys playing the piano, traveling, and hanging out with her family in her free time.
Akari Ueoka
- Organizer/Host of the Workshop
earned a Bachelor's in Elementary Education and Early Childhood Education from the University of Hawaii in 2008.
has taught at public and private elementary schools as a full-time teacher in the U.S. for six years and then created tutoring services to help children who have challenges understanding their school work.
served many clients ranging from children to senior company executives teaching Japanese and English.
has professional experience in translation and interpretation work.
is originally from Japan and has spent her adulthood living in the U.S. for the past 20 years.
finds much joy in being the bridge between languages, cultures, knowledge, and people.
To read what parents have said about Akari's teaching, please visit
the testimonials
page.
REGISTRATION

To register, please click here and fill in the form.
Refund Policy:
We rely on accurate attendance to prepare teaching materials. The workshop fee of $10 is non-refundable. Please take this into account when you sign up for the workshop.