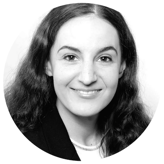 German Translator/Interpreter/Teacher
Johanna Mandelartz

Academic Background:
2013-2015 - M.A. General and Comparative Literature Studies
(English, German, French and Italian Literature)
Ludwig Maximilian University of Munich, München
,
Germany (Ludwig-Maximilians-Universität)
2009-2012 - B.A. Franco-German Studies
(French-German translation, international relations and intercultural communication)
University of Regensburg, Regensburg, Germany (Universität Regensburg)
Blaise Pascal University, Aubière, France (Université Clermont-Ferrand II)
Teaching & Translation Experience:
Johanna has been working as a freelance translator, editor and proofreader since 2006. She started out working mostly on academic papers, but has since widened her repertoire to include business papers and correspondence as well as fiction and nonfiction texts. She has worked for the bilingual TV station ARTE as well as for two large German publishing companies.
Languages:

German, French, English
Hobbies:

Contemporary literature, foreign languages, CrossFit, long-distance running