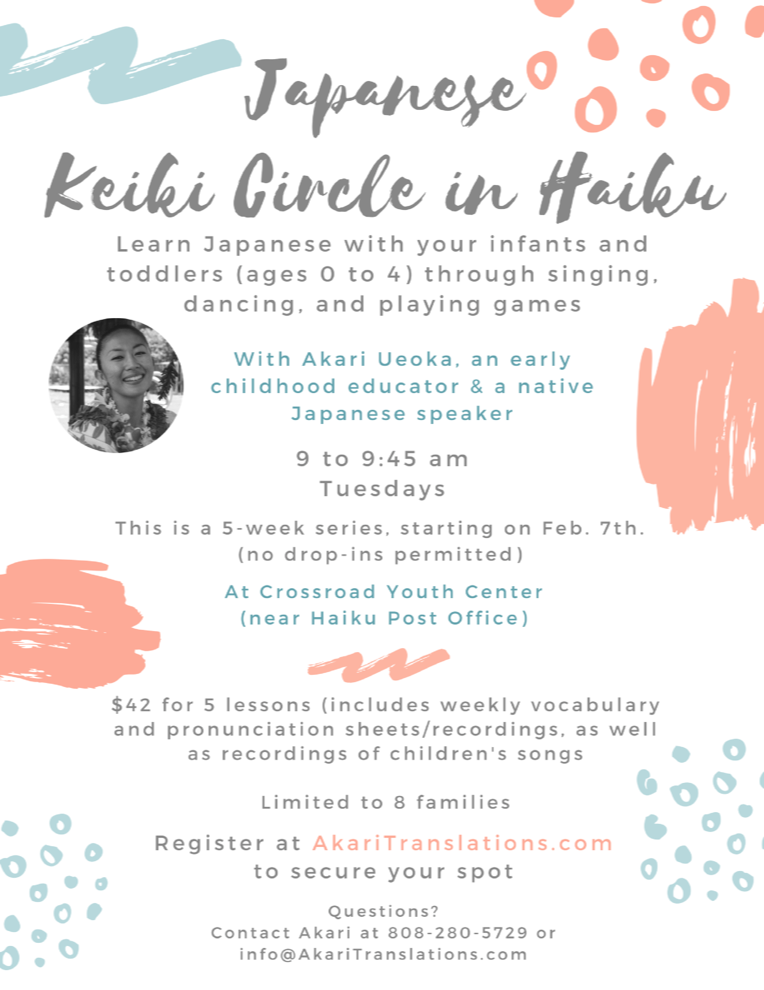 For children between ages 0 and 4:
In these 5 lessons, children and guardians will learn Japanese vocabulary, phrases, and pronunciation through singing, dancing, and playing games.
At each lesson, you will receive:
a sheet of vocabulary and an easy-to-understand grammar rule
a recording of songs
a video of songs
Akari, the instructor, provides these supplemental materials in the hope that you could practice them even after you go home. You could play the recordings while you're driving with your little ones.
Language becomes alive when it is used regularly.
Akari wants to make sure that you have the necessary tools to maximize the benefit of each lesson. Even using one or two phrases with your child(ren) throughout the week will help you to retain the learned material and allow it to become a part of your family communication.
Find out who Akari is at
this page
.
Find out what other parents said about Akari's teaching at
this page
.
Limited to 8 families.
Register early to secure your spot.
Register for Haiku Group $42
(2/7, 2/14, 2/21, 2/28, & 3/7)
On your credit card statement, you will see that it was charged by "Akari Enterprises, LLC."
Refund Policy for Group Lessons:
We rely on accurate attendance to prepare teaching materials and to plan lessons for our group lessons. If you need to withdraw from a course, you must inform us in writing via email.
You will be refunded 80% of the course fee for cancellations made more than 15 days prior to the start of a course.
You will be refunded 50% of the course fee for cancellations made between 8 and 14 days prior to the start of a course.
No refunds will be administered for cancellations within 7 days of the start of a course.
Please take this into account when you sign up for a course.