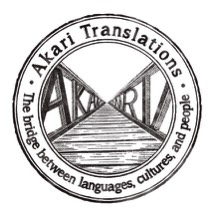 Bridging the World One Translation and One Student at a Time
Translation
Do you want to share your products and services with a wider market but a language barrier is preventing you from realizing this goal?
Are you applying for a visa and need someone to translate your marriage certificate/birth certificate?
Are you studying and one critical source is elusive to you because it is written in a language you don't understand?
Interpretation
Do you need an interpreter at your next business meeting or doctor's appointment?
Are you planning an international marriage and you need an interpreter at your wedding?
Tutoring/Language Lessons
Do you want to learn a new language?
Does your child need extra help to succeed at school?
Study Abroad
Do you want someone to assist you in a customized study abroad program?
Then we are here for you.
Please visit the
Services
page to take the first step.
Our goal is
to become the bridge
between you and your clients/customers, readers, students, and loved ones.
Please allow us to assist you in achieving your business and personal goals.
Feel free to
contact
us with any questions you may have.
Sincerely Yours,
Akari Ueoka
of Akari Translations and
Our Team
Podcast "Akari's Heart Read Aloud"