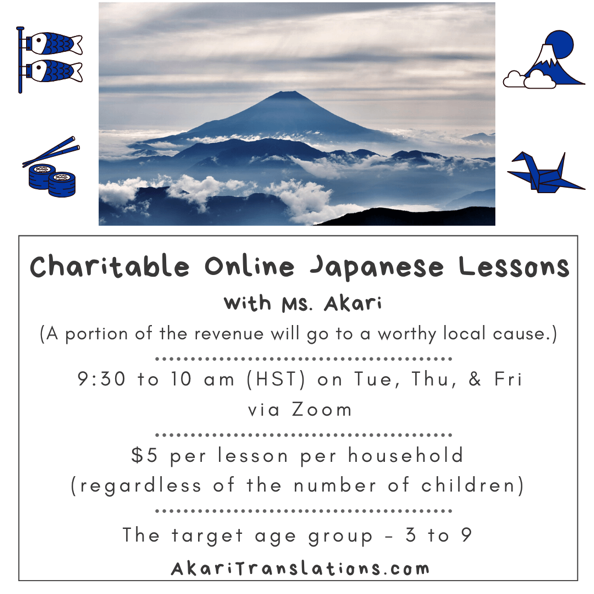 Low-Cost Charitable Online Japanese Lessons for Children in 2020
When the stay home order was issued, I wondered, "What can I do for my community in this challenging time?"
I thought, "As an educator and as a language teacher, I can offer online Japanese lessons for children who are staying home due to school closure."
I used to host Japanese Keiki (means kids in Hawaiian language) Circles for young children. I thought I could replicate it online. Of course, it will be different from an in-person experience, and I do not want to encourage children to be on screen too much, but my hope is to provide some fun learning experience for them.
I hope that this experience gives children impetus to be curious about other cultures (not just Japanese), which will then hopefully grow empathy toward the fellow citizens of the world.
The target age is group is 3 to 9 years old.
It is not mandatory to attend all 4 lessons.
It is $5 ($4.80 plus tax) per class per household regardless of the number of children you have.
If you are interested, please send me an email at info@akaritranslations.com with your child's name, age, and your phone number. I will send you a video that shows how to write your child's name in Japanese.
We will sing songs, learn to count, learn some greetings, a couple of Hiragana, a couple of vocabulary, and read Japanese stories together.
A portion of your payment will be donated to a cause that is helping our community's well-being. See below for whom and how much we have donated so far, and whom we are going to donate this week.
See you!
Ms. Akari (More about my bio, please visit
here
.)
P.S. The first 4 lessons' videos are available below. Please feel free to watch.
The causes we have donated:
Materials used in lessons:
Hiragana:Songs:
(Disclaimer - I am not a trained singer at all. I taped myself singing only because of requests from former students. It's definitely pushing my comfort zone, but I can do most anything if it's for the sake of children. Hahaha.)
Stories:Others:Lesson Videos:
When you write hiragana characters with a pencil, you do not need to copy the brush strokes precisely.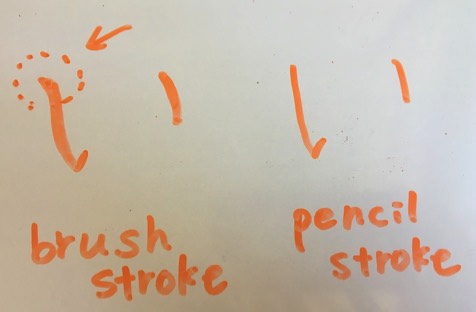 Japanese/Chinese writing is particular about strokes. For instance, Kanji characters are organized by the number of strokes. Ideally, children want to follow the order of strokes, although we don't want to be too strict to a point that discourages them.

What is a stroke?
A stroke happens from the moment you put your writing device down on the surface of paper and until you let it come off the paper.

Why are brush strokes everywhere?
Traditionally, Japanese was written with brushes. Almost any book or practice sheet that teaches Japanese writing uses the brush-written style for the Japanese characters. The brush-written style best represents how the characters should be written.
Click the image below to see a PDF flyer for hotels.